About Us
Executive Director | Board & Advisory Council | History | Supporters' Statements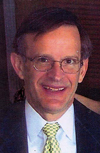 Gershon "Gary" M. Ratner founded CES and became its Executive Director in 1998. Ratner began research and writing to establish a legal duty for public schools to effectively educate all students, especially poor and minority students, in basic skills while a lawyer with Boston Legal Assistance Project in 1972.
His 1985 article, "A New Legal Duty for Urban Public Schools: Effective Education in Basic Skills," in the Texas Law Review, is the seminal work that calls for holding urban public schools legally accountable for effectively educating their students. Its central theme is that urban public schools that are failing to effectively educate a sizeable portion of their students have a legal duty — including from equal protection, due process, and state constitutional education clauses — to adopt the common characteristics of schools that are successful in educating such students. The article grew out of Ratner's recognition, which Ron Edmonds had arrived at independently, that social science research needed to identify such schools and any common characteristics they shared. In 1973, Edmonds and Ratner began collaborating to accomplish this; Edmonds' subsequent
research evolved into the "effective schools" movement.
From 2001-2015, as CES's executive director, Ratner spearheaded advocating to replace the No Child Left Behind Act's (NCLB) high-stakes testing strategy with a strategy of helping public schools improve by doing what experience and research shows works to turn around low-achieving schools. His work included identifying needed policy changes, public speaking, writing, engaging other national organizations, and lobbying Congress and the White House. It included his 2007 lead article in the University of the District of Columbia Law Review, "Why the No Child Left Behind Act Needs To Be Restructured to Accomplish Its Goals and How To Do It" and his May 2010 paper "Common Elements of Successful School Turnarounds: Research and Experience." (This paper was requested by the U.S. House Education and Labor Committee to prepare it for its May 19, 2010 hearing on "Research and Best Practices on Successful School Turnaround" and was assisted by Monty Neill.) Starting in 2011, Ratner used his new blog in Huffington Post to advance this advocacy.
In 2014-2015, he was invited by Republican and Democratic Congressional education staff to submit to them — on behalf of the Forum on Educational Accountability (FEA) — legislative language to replace NCLB's sections on accountability and school improvement. (Portions of these submissions were done in consultation with Monty Neill.) Important policies Ratner advocated then and previously on behalf of FEA, as well as other policies he advocated separately for CES, were reflected in Congress's December 2015 replacement of NCLB with the Every Student Succeeds Act ESSA).
Since ESSA was enacted, Ratner has been writing about what States and localities nationally should do to effectively use the new discretion and guidance that ESSA provides. Locally, he's advocating for D.C. Public Schools (DCPS) to move toward collaborating with stakeholders and developing a supportive school climate and culture, including using the School Climate Assessment Instrument (SCAI), California State University-Los Angeles, as a tool for needs assessment and school improvement. Since spring 2017, he's been a consultant to DCPS's large and diverse Wilson High School to help it use SCAI to improve its school climate and culture.

Mr. Ratner won a Presidential Rank Award as a senior executive at the U.S. Department of Housing and Urban Development, was a top assistant to the Secretary of Health, Education and Welfare, and was recognized by a Boston Globe editorial as "one of Boston's prized lawyers," who "had more impact on city and state government … over the past decade [than all but a] few people in or out of the legal community." His calls to action have appeared in The New York Times, The Washington Post, Business Week, and other major publications.

Ratner has been a nationally recognized advocate and writer on school reform law and policy for over 30 years. He graduated from Williams College (Phi Beta Kappa) and Harvard Law School.